Page Française : cliquez ici.font-family: Comic Sans MS, Arial Black; font-size: 12" text="#0000FF">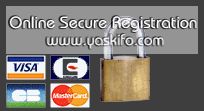 Register with our secure order form.

Product : MasterKey v1.06 - 32 bits - US
O.S : Windows 95/98
Format : Self-extracting installer (957 kB)

MasterKey is an easy way to protect your private documents.

MasterKey allows you to work with your private documents whithout having to take care of them..

Real-time encryption - when you save your private documents, MasterKey encrypts them.


Automatic decrypt, when reading.


No way to access your documents when in suspend mode.


Your private file remains readable in memory only.